The Real Auto Parts are Authenticated by AccessReal
In India, 40% of auto parts sold were fake. Theestimated value of fake spare auto parts in the aftermarket was Rs. 10.5K – 14K.(2014, ACMA)
In China, the reason of  the autoparts quality and assembly technology accounted for 70%  to cause the car faults.  Morethan 50% of car faults caused by using fake auto parts . 56% of Chinese car users have used thefake parts in their cars. In all car accidents, 13% is caused due to fake parts. (2013,CAAM)
How to Combat Counterfeiting ?
Product Authentication – Every product  needs to be authenticated. Each product has aunique authentication code.
Consumers Education  – Teach consumers aboutcounterfeiting and give tools that allow them to identify  and report suspicious products .
Stakeholder Engagement – Stakeholders(Manufacturers/  distributors / retailers &consumers)  are engaged  to promote aggregated  efforts  against fakes.
An example : A tool for Consumers to ensure the genuine Car parts
One consumer needs tomaintain his/her  car in 4S shop.He/she  pays up and picks up his/hercar.  Finally, he/she replaced  3 car parts. But how can he/she  ensures that the parts were  Genuine?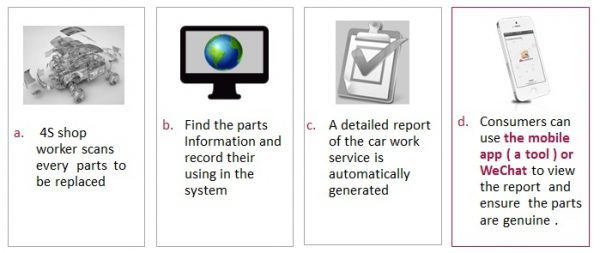 Increase the Resale Value of Cars
AccessRealprovides stakeholders:
Complete Car MaintenanceRecords
Encourage use of genuineoriginal replacement parts only
Convenience for car owner sand buyers to easily inquire all the car records
Security on the road
Boost consumer confidence!